What's New @TRTC
The Resource Training & Counseling Center is hosting a Comedy Night Fundraiser on Tuesday March 31st, 2015 at 7pm, located at:
Bay Ridge Manor 476 76th Street Brooklyn NY 11209
The evening will be hosted by award winning comedy writer, Neil Berliner (Howard Stern, MAD Magazine), and features the comedy of Mike Morse, Calvin Cato & Emma Willman. All proceeds will support The Resource Counseling Center's mission, to help our families, friends & neighbors who suffer from dependency on drugs, especially in the epidemic of prescription drug abuse. Please come out and show your support. For tickets, call us at 718-833-3320 or click the link below to purchase tickets online.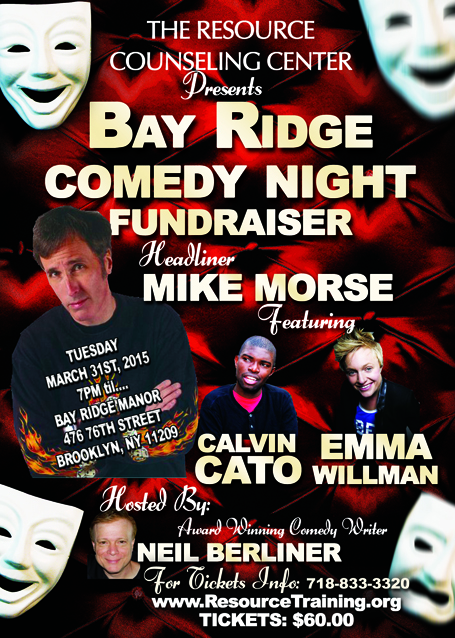 Check Out the latest

issue of our Newsletter

"Resource News"

Donna Mae DePola's book "Twelve Tins" has been generating a lot of buzz. Available in limited suppy for only $10.00 for pickup at our Brooklyn location or shipped for only $4.00 more. The Kindle Edition is also avaialable on Amazon.com.

The Resource Training Center's Family of Services
Services At A Glance
The Resource Training Center

CASAC Training: Brooklyn, Manhattan, Queens, & Buffalo NY.
New York State Drinking Driver Program (DDP): Brooklyn, Manhattan, Queens, Staten Island, & Buffalo, NY.
MADD Victim Impact Panel (VIP): Serving the 5 Boroughs
of New York City
Brooklyn: 718-871-7433 NYC:212-645-0218 Queens: 718-441-1200
www.ResourceTraining.org
The Resource Counseling Center
Outpatient Chemical Dependency Treatment: Serving Brooklyn & Surrounding Areas, Group & Individual Counseling, Adults, Adolescents, Co-Occurring Disorders, Medication Management, DWI Assessments & Treatment. Treatment on Demand: Walk in, get connected to services.
718-871-2400 www.ResourceCounselingNY.org
The Recovery & Life Coaching Academy
The largest Recovery Coach Training Provider in New York
Recovery Coach Training, Recovery Coach Training of Trainers
New York's 1st Free Recovery Support Phone Line: Get Connected With A Volunteer Recovery Coach. Visit www.RaLCA.org to get connected.
What's New @ Our TRTC Locations
The Resource Training Center's Graduating Class
TRTC Held our annual graduation ceremony, celebrating the over 150 graduates at St. Peter's Church on Lexington Avenue and 54th Street in NYC. We had an incredible turnout, and it was a wonderful ceremony!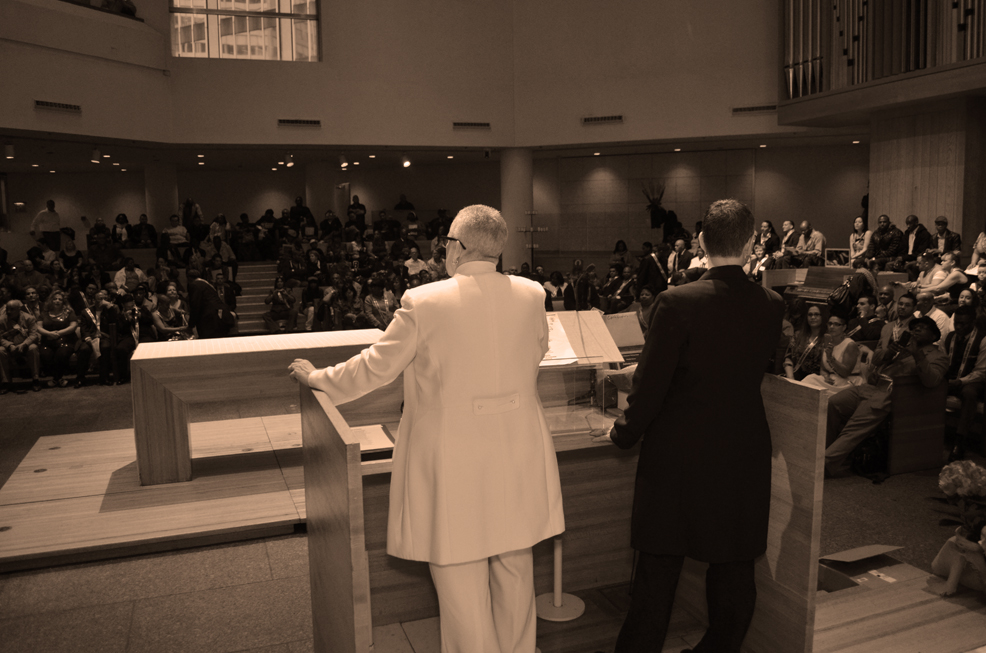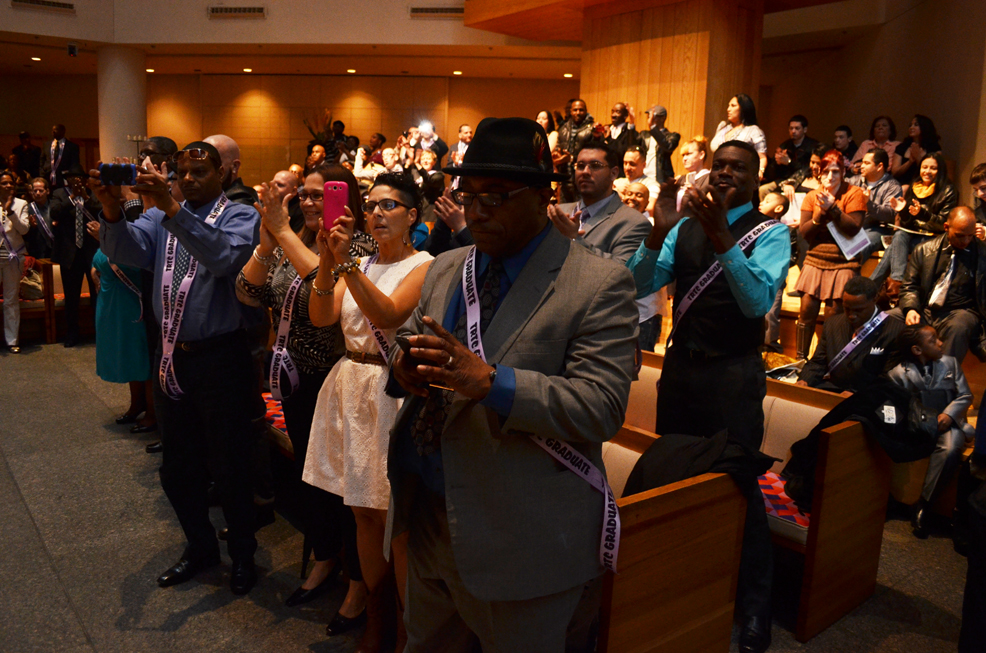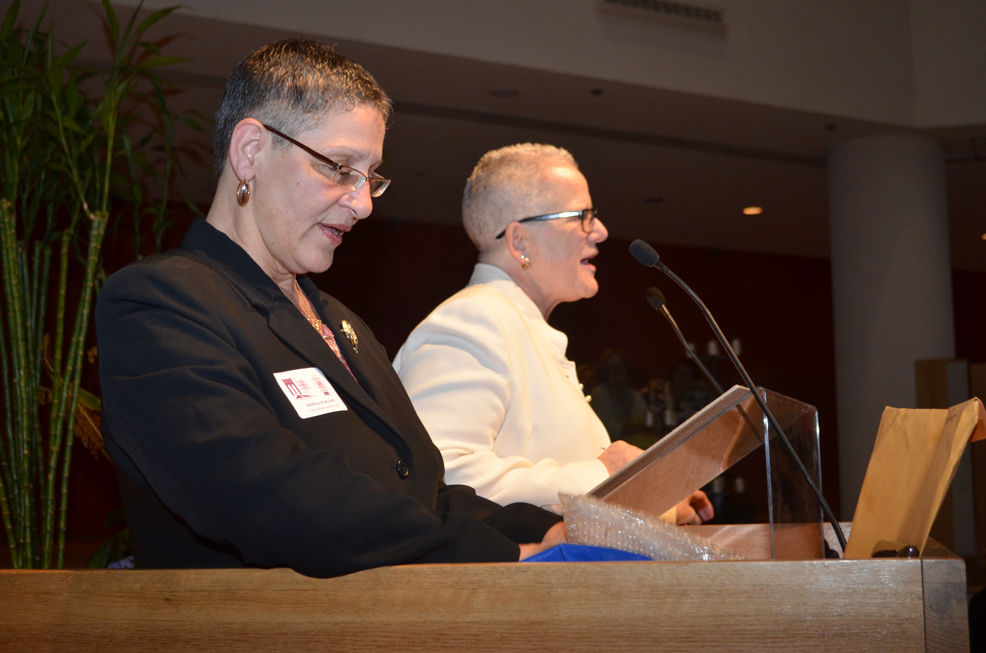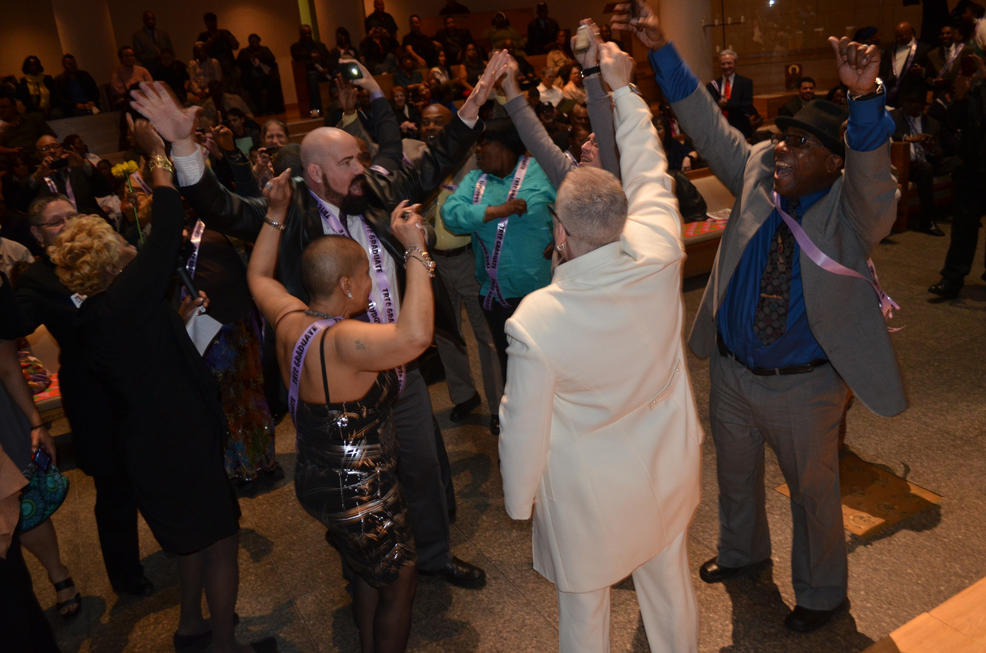 Donna Mae DePola: Extraordinary Woman!
Our very own Donna Mae DePola was recognized, along with 32 other woman, by the Office of the Brooklyn District Attorney, Charles Hines, as one of Brooklyn's Extraordinary Women of 2013. He along with her co-honorees were celebrated at a ceremony at the Brooklyn Supreme Courthouse. Donna gave a wonderful and humble speech. She commented that it was an honor for her to be recognized among such extraordinary women, but to those who know Donna Mae know, that she is indeed extra-extraordinary. Congratulations Donna!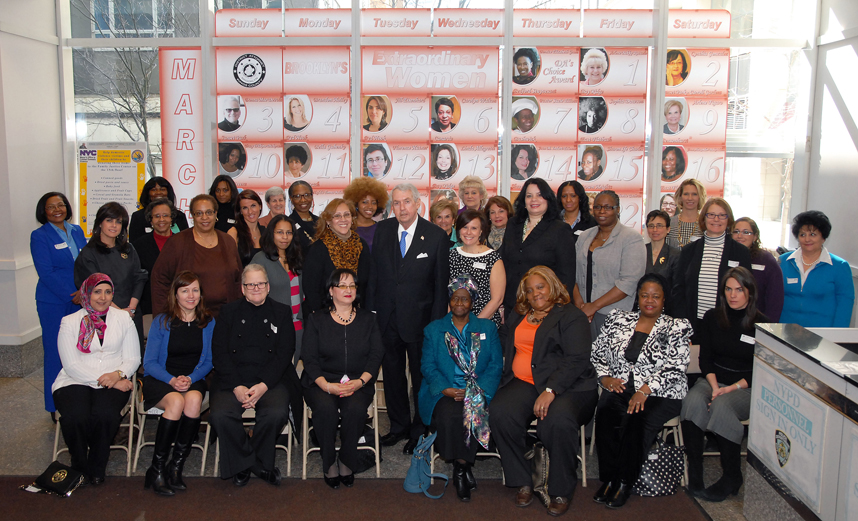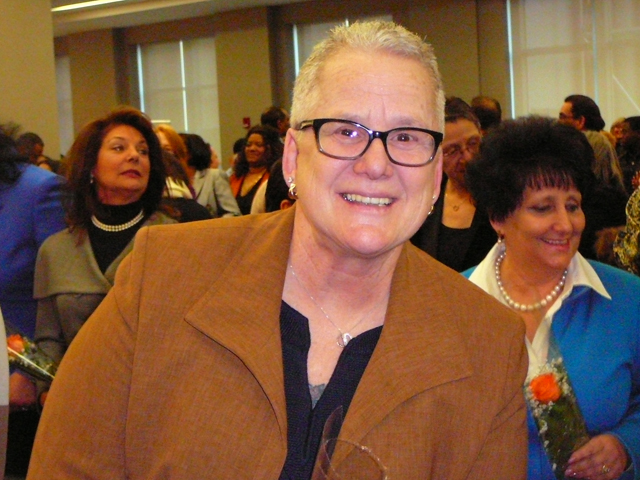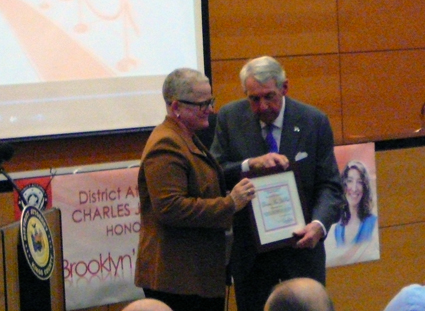 The Resource Training Center: Class of 2012
The Resource Training Center celebrated our 2012 graduates at a beautiful ceremony at Saint Peter's Church on East 54th Street & Lexington Avenue in NYC on June 29th, 2012. One hundred and one (101) students graduated, fulfilling the education requirement to become a Credentialed Alcohol & Substance Abuse Counselor. The ceremony was exciting, and seeing our graduates and their familes beaming with pride is why we do what we do. That's 101 new soldiers in the fight for people's lives against addiction.
Below is the video produced by TRTC honoring our graduates. The background music and vide is Whitney Houston's "I Look to You", one of her final recordings. Whitney is another wonderful, talented artist, lost to drug abuse. A reminder that drugs will destroy the lives of anyone, indiscriminantly. The work our graduates will be doing with their clients will help others share the same fate. Rest in Peace Whitney. We at TRTC "Will Always Love You."
The Resource Training Center: Class of 2012 from Mike Buckley on Vimeo.
_______________________________________________________________
The MADD Victim Impact Panel by TRTC: Exponential Growth, Larger Impact
Our VIP program has continued to grow, and with the help of Thomas McCoy & Lissa Harris, MADD Long Island's Executive Director and Program Specialist, respectively, and of course the victims that share their tragic stories each month, tearful offenders have reported they will be significantly less likely to mix alcohol and driving again. The Richmond County VIP has seen steady growth, thanks to the strong support of the Staten Island District Attorney's Office. The May 16th, 2012 Staten Island VIP saw the largest audience of offenders to date, with ADA Adam Silberlight (who attends each month) and other representatives from District Attorney Dan Donovan's office in attendance.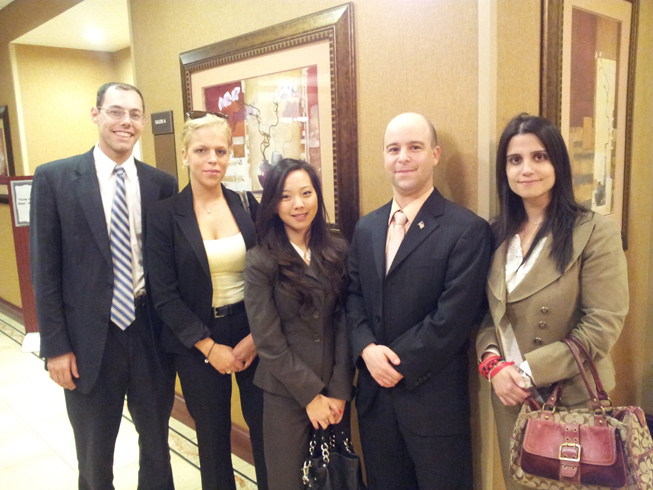 Pictured Above: (L to R): Jonathan Fogel, Brooke Baranoski, Ann Heo, Adam Silberlight, and Antonia Assenso.
_________________________________________________________________________________________
Introducing THE RECOVERY & LIFE COACHING ACADEMY
The Resource Training Center is excited to announce our new training program, The Recovery & Life Coaching Academy!
This new program is a five-day training for individuals who would like to become involved in serving as a recovery coach.
What is a Recovery Coach?
A Recovery Coach is an individual with an interest in promoting recovery by assisting in overcoming obstacles to recovery and serving as a personal mentor for people who are both in recovery, or wanting to be in recovery. Participants in the training will learn an in-depth overview of what being a recovery coach entails, as well as the various roles a recovery coach plays. The participants will gain tools and resources helpful in providing recovery support services, and focuses on the skills needed to connect people in recovery to the support and skills needed to maintain and strengthen long-term recovery.
The trainings are held at our new New York City location at 500 8th Avenue, Suite 907 New York NY 10011! Our state of the art equipment, and dynamic training staff will provide participants with a valuable learning experience they won't soon forget. The Recovery Coach Movement is going strong, and The Resource Training Center's Recovery & Life Coaching Academy has trained more Recovery Coaches than any other provider in New York.
Be a part of the movement! Contact Dona Pagan at 718-871-7433 or donapagan@resourcetraining.org
TRTC's 4th Recovery Coach Training completed on April 6th, 2012!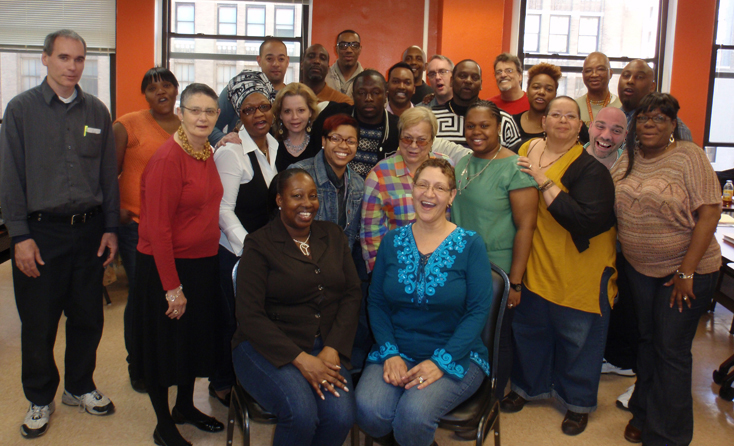 | | |
| --- | --- |
| Brooklyn, New York | New York City |
WE ARE IN!!!!!

Our new state-of-the-art training and counseling center is complete! We said or good-byes to 482, it served us well, but our new location is a brand new building, built to our specifications. IT HAS AN ELEVATOR!! ! CLICK HERE FOR CONTACT INFO

Services Offered in Brooklyn: CASAC 6 Month Day Program, DDP Classes on Mondays, Wednesdays and Saturdays, MADD Victim Impact Panel.

Our NYC Campus has Moved!!!

The growth and expansion of TRTC is continuing. We have said goodbye to our West 20th Street Chelsea location, and moved into a space 3x as large! Our new location is at 500 8th Avenue. Suite 908 New York, NY 10018. All other contact information has remained the same. Click below for maps and directions!

For contact information for our NYC campus, PLEASE CLICK HERE

Services Offered in Brooklyn: CASAC 6 Month Day Program, 9 Month CASAC Evening Program, DDP Classes on Mondays, Fridays and Saturdays. More to come!
Queens
Our Queens, New York location is our largest Drinking Driver Program. The Resource Training Center works in partnership with Mothers Against Drunk Driving (MADD) to present a monthly Victim Impact Panel (VIP). The VIP program is where court mandated individuals, convicted of DWI/DUI offenses attend a seminar where families that lost loved-ones tell there stories with the hope of preventing people from making the dangerous choice of driving while intoxicated or impaired. (The faces of attendees have been blurred for confidentiality)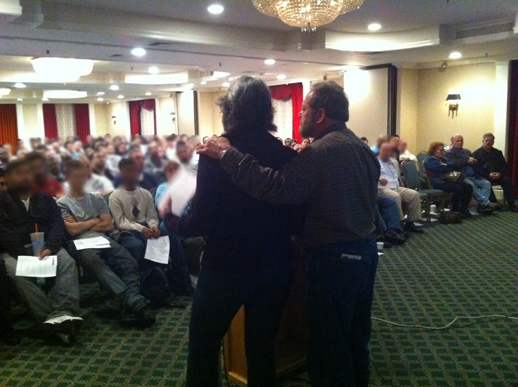 Amherst/Buffalo
In addition to our weeknight and weekend DDP classes we are now offering mid-day DDP classes at the Harlem Rd. Community Center.
Contact Monica 
(716.983.2258
) anytime for dates and 
code (8500) to request at DMV. 
SPECIAL THANK YOU to AIDS COMMUNITY SERVICES for inviting us to their Annual Employee Benefits/Education Fair 

Coming soon!  CASAC Daytime classes...
                      Finish in 6 months!!! 
Young drivers see dangers of texting: wivb.com
   Alive @25
AMHERST, N.Y. (WIVB) - Young drivers got a chance to find out how texting impairs driving without putting themselves in real danger.
The Resource Training Center held this demonstration Saturday at the Boulevard Mall in Amherst.
State Police were on hand.
Participants could climb in a simulator to show what it's like to text while driving, crash then be taken to the hospital.
Monica Farrar of the Resource Training Center said, "We're trying to keep our youth safe, we know that the technology is out there. And just driving, anywhere you see people constantly on the phone and texting still. So we want to provide the education to keep people safe."
Through its new "Alive at 25" program, the resource training center encourages young people to practice safe driving, including not using the phone and staying sober at the wheel. 
Ongoing CASAC education classes
at the Harlem Road Community Center
4255 Harlem Rd in Amherst
Check us out this month on: http://www.buffalohealthyliving.com
Page 12 and 16
For contract information & the services offered at our Buffalo/Amherst campus, PLEASE CLICK HERE
_______________________________________________
Drinking Driver Program opens new classes opening several times each month. Register at your local DMV office and request code 8500.
Check us out on WGRZ: http://amherst.wgrz.com/news/families/innovative-new-program-aimed-drinking-drivers/52828
Services in Amherst/Buffalo: 13 Month CASAC Evening Program. Drinking Driver Program (DDP), Alive at 25.